The Airance automatic room spray is a fully automatic air freshening machine with light sensor which can spray automatically at pre defined time intervals.
Features Of  Model Air108-A2
Eliminates Airborne Bacteria, Odours and fragrances the  ambiance 24 x 7.
Instantaneous, Effective and Long Lasting European Air Fragrances.
Light sensor makes this machine dispenser unique  which saves wastage of fragrance.
Light sensor mode enables the machine dispenser to be operated in Day or Night mode automatically.
Works on two D size Batteries, which lasts upto 6 months.
Eight time control interval spraying options of 5 Minutes,15 Minutes and 25 Minutes.
Working mode option of  Day, Night & 24 hours.
Test spray button for immediate spray.
Effective area up to 6000 cubic feet.
Facility of locking the machine dispenser is provided.
It can fit 250 ml and 300 ml Airance air freshener refill.
It's a Self Standing machine dispenser which can be Wall Mounted also.
Aesthetic design and features makes this air freshener machine dispenser  ideal for homes, offices, hotels, shops, hospitals and other public places.
Light weight (400 gms), Small size (Length 3.38 inches x  Width 3.38 inches x Height 9.37 inches) and convenience of placing the unit anywhere.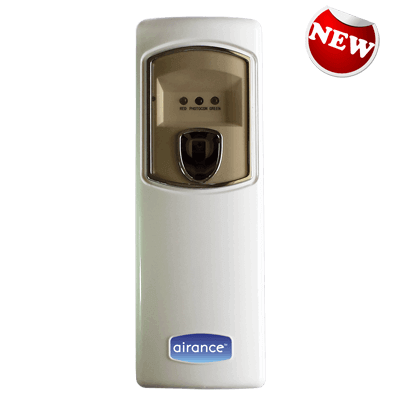 Model Air108-A2
Warranty & Certification
2 Years Manufacturer Warranty on the machine dispenser.
CE certified.
Demonstration
Call our customer care for complete telephonic demonstration of the machine dispenser, it's features and installation procedure.
Taxes & Shipping
Prices are inclusive of all the taxes.
FREE SHIPPING all over India.
Repair, Servicing & Troubleshooting
Telephonic/Email/Whatsapp customer care for sales, service & support.
Non physical damage problems are resolved by our customer care executives on phone itself.
For repair & servicing of the machine dispenser, facility of door step pick up – drop of the machine is provided on request, saves time to visit the service center.
Repair & servicing of the machine dispenser is also provided even after the expiry of the warranty period at nominal charges.